Lots of you said it was time for Mom to get me a bigger bed.
The truth is: this isn't my bed at all. It belongs to Joy and Ohno.
The truth is: I want this bed for my own. Most often before I get in it, I have to take one or both of them out of it. Yes, I really do literally remove them from their comfy spot by gently lifting them in my mouth and putting them on the floor. It may seem harsh, but it's a dog eat dog world!
Move over, Morkies. I am Boondocks. Here me "AROOOF!"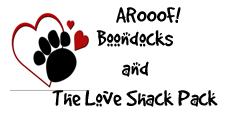 P.S. Mom is going to be working on a new background and header for us. She wants a better template to make some of our blog features more accessible. Keep an eye out for our new look coming soon