Since I never got to meet Rhett, I'll just tell you what the other guys have told me...
Rhett came to live with my family when he was just six weeks old. He was intended to be a gift for the children, but Rhett was insistent that he was a momma's boy and had no need for anyone other than her. Don't get me wrong, he loved everybody. But he lived in Momma's shadow. He adored her. And she loved him.
Mom and Rhett enjoyed taking long walks together. Rhett had a sixth sense about mom and knew when she was sick or blue or if she just wanted to have fun. His personality altered accordingly. He was always to be counted on to be at mom's side when she needed him most. She was always ready to throw the tennis ball for him "just one more time".
They tell me that the relationship Mom and Rhett had is the kind that all good dog stories are based on. Mom says he was her "once in a lifetime" dog.
Rhett had a very quirky personality and was incredibly smart. When mom would yell, "KILL", he would hunch down and bark at whoever she'd 'sicked' him on. She could tell him to wake dad up, and he'd jump in bed and lick dad's face until he was wide awake. He knew each of the hoo-man children by name and could be counted on to give them love whenever directed to do so. When mom was pregnant with her youngest child, Rhett became a protector to them both not allowing anyone too close to mom's ever growing belly.
Connor and Rhett in 2006
Me and Connor earlier this year.
Rhett slipped away from this life way too soon. I can sense that there are times that Momma still grieves for him. He's buried out in our back-yard and most days when Mom takes me outside, she stops to visit him if even for a second.
I hope to come close to the place Rhett held in Momma's heart. He sure was a special boy.
Rhett 2004 - 2008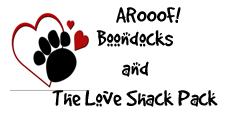 From mom: Thanks, Boondocks, for help filling the void. I'm beginning to believe in the possibility of a more than once in a lifetime best friend because of you.