Isaac and Cosmo
Cosmo came to live with us when he was five and a half months old. He was a gift for Isaac's 7

th

birthday. We do not know much about the condition of Cosmo's life before he came to live with us, but we do know he was not use to a lot of interaction with humans.
When we picked Cosmo up, we literally had to lift him into the van. No amount of coercing was enough to convince him to go willingly. We would try to throw a tennis ball for him to chase. His reaction was 'no reaction'. The first time we put a leash on him, he thrashed his body around so wildly we were certain he would hurt himself or someone else. We unclipped the leash from his collar and vowed to try again later. From that point on when the leash came out, Cosmo froze with fear. He firmly planted his bottom on the ground and would not budge an inch.

We consulted a friend who is an award winning dog trainer. He evaluated Cosmo and reported that "this dog has no drive." He went on to tell us that we'd never walk Cosmo on a leash and that Cosmo was 'untrainable'.

Cosmo seemed to know from the beginning that Isaac was to be his master. He found comfort in Isaac's presence, and Isaac spent hours reassuring him of his place in our home. Little by little Cosmo came out of his shell. Day by day he seemed to trust us more. He and Isaac now share a bond that most people can only dream of having with a pet. To see them together is truly a thing of beauty.


Now days when the leash comes out, instead of being afraid, Cosmo looks up at Isaac as if to say, "What grand adventure will you lead me on today?" I am convinced that the dog would follow Isaac to the ends of the earth.

Isaac gently takes hold of the leash and off they go. Cosmo doesn't ask where they are going. Cosmo does not pull against the leash - not even to smell the 'happenings' of the neighborhood. Cosmo follows Isaac. His step is in perfect harmony with that of his master - all because he trusts Isaac and knows that Isaac wants only what is best for him.




In our lives it doesn't always seem as easy to blindly follow. Problems arise that don't seem to have a solution. Bills mount up. Relationships die down. Things are in constant need of repair. Often it seems that the path we are being led down will surely lead to our ultimate end. We have no hope, no faith, and no trust.

Yet when we allow God to take control of our lives, we learn that He is a Good Shepherd who will never abandon or forsake us. His intentions for us are good not evil. To walk in a relationship with Him - trusting His purpose for our life and having faith in who He is - brings FREEDOM. You are no longer spiraling down a road leading to nowhere. When we follow in The Master's steps, we can rest in the knowledge that He is leading us to where He wants us. When we trust Him, our future no longer seems terrifying but rather satisfying because of the awareness that He who created the universe is holding your hand leading you to His best for your life.

Like Cosmo it sometimes requires taking a single step in faith and learning to trust - one step at a time. Regardless of the road you are on when you call out to Jesus, he will give you rest. Won't you follow Him?

The LORD is my shepherd, I lack nothing.
He makes me lie down in green pastures,
he leads me beside quiet waters,
he refreshes my soul.
He guides me along the right paths
for his name's sake.
Psalm 23:1-3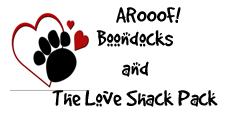 Beginning soon The Love Shack Pack will begin accepting submissions for Boon's Sunday Sermon. If God has given you an encouraging, uplifting word that you would like us to share, please email us at
Samantha@theloveshackpack.com
.