More evidence of why EVERY boy needs a dog to call his own.
Four year old, Connor, and his best dog friend, The Great Kudzu.
Chillin'
Watching TV.






Hope y'all are enjoying a nice, lazy Saturday with the ones who love you most!!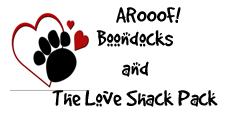 P.S. Oh, and before we forget, please visit
Sarge
for the most recent news about the Labor Day weekend Back to School Bash. And don't you forget to get those "PROM/PAWM" pics into us at
agapepuppylove@gmail.com
. Pawm picture can be as formal or informal as you choose. Some are dressing to the nines while others are just wearing the furs God gave 'em. It doesn't matter - as long as you're there!!! AROOOOF!